Click on any newsletter below to view.
WZBD Interview with Sharon Partridge
-
Manure Management
00:00
Locations of Interseeder Plots
​
Adams County SWCD offers Soil and Manure Testing.
Call our office for more information.
Rain and snowfall drains into three watersheds in Adams County. A watershed is an area of land that drains into a lake or a river. Watersheds can vary in size. Some are just a few acres and others are millions of square miles.
Most of the land (approximately 73%) in Adams County drains into the St. Marys River Watershed. The Saint Marys River Flows into Fort Wayne where it joins with the St. Joseph River to form the Maumee River. The Maumee then flows directly to Lake Erie.
The Auglaize River Watershed drains approximately 5% of the land in Adams County. This river is also a tributary of the Maumee River, joining in Ohio, and therefore ends its course in Lake Erie as well.
The third watershed in the county is the Upper Wabash River Watershed. It drains the remaining 22% of the land in Adams County. The Wabash River flows south to form the western edge of Indiana before exiting into the Ohio River. The Ohio River flows to the Mississippi River, which ends its course in the Gulf of Mexico.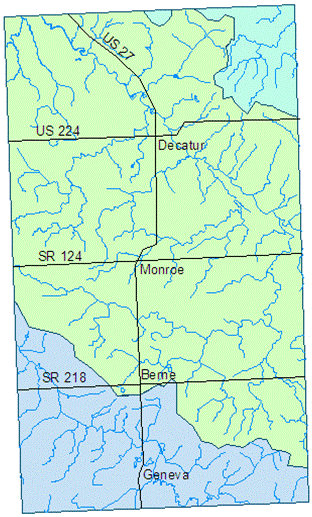 The SWCD owns four different pieces of equipment that are to be rented out to local landowners. This is done to raise funds for the district, but also to provide a service to landowners. Please contact our office for scheduling information.
Land Pride 706NT Series No-till Compact Drill 7' Width
10 rows, 7.5" row spacing, 2x13 single press wheels

5/8" turbo coulters, standard tougue, clevis hitch

2 Seed Boxes

$9 an acre/$55 min

Modified to be pulled by tractor or horse team.
Betterway Hi-Boy Seed Spreader
Pulls with a single horse

Broadcast cover crops

$4 an acre/$40 min.
Salford 522 Air Drill
30' wide

Capable of seeding cover crops and injecting dry fertilizer in the same pass.

Provided by collaboration of Adams SWCD and Allen SWCD.

The regular rental price is $30. This includes drill, tractor, & operator.

SPECIAL RATE: $16/acre ($15/acre if the invoice is paid within 10 days)